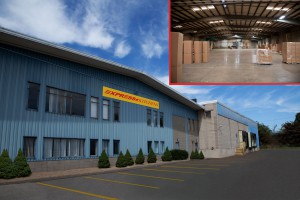 Express Kitchens has expanded their production and distribution capabilities with the purchase of a 120,000-square-foot facility in Hartford's North Meadows. The new location was previously vacant for four years prior to the purchase.
Their investment along with Express Kitchen's recent investment in new technology for cabinet and countertop assembly will result in higher quality products, improved state-of-the-art packaging and a 20% faster turnaround time for installation all resulting in increased buying power and savings to their customers.
The new facility allows the recently SBA award-winning company (Link) to increase their commitment to Connecticut by making it possible to open more locations throughout the state including existing plans for Fairfield and New London counties. The expansion will directly benefit Hartford, in need of significant job growth, by creating approximately 50 new jobs for Hartford's North End.
Express Kitchens continuing commitment to Hartford's inner city job creation is an exception to the decline of manufacturing currently in Connecticut. A recent report showed a loss of 1,894 manufacturing jobs in the state over the last year (Link).
Steven Harris, a 61-year-old community activist and lifelong Hartford resident, said owner Max Kothari should be the model for other businesses looking to grow in Hartford.  "I watched him grow his business over the years and he has always hired folks from the community. He has also hired people other businesses wouldn't hire."
"He's been a positive influence in our neighborhood, " said Harris, "and a role model for other businesses in the community."
The new facility is in addition to the existing 100,000 square foot facility at 3080 Main Street in Hartford.
The new facility increases Express Kitchen's footprint in CT up to a quarter million square feet.