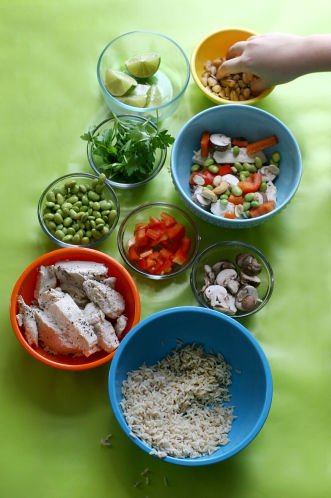 When it comes to weekday dinners during the school year, keep it simple, creative and fun. Don't rely on meals that require a long cook time or have a ton of ingredients that need prepping that night. Cooking in bulk on the weekends and planning out meals for the week can be a lifesaver when everyone is busy. (For more tips like this, see Page 4E.) Consider Meatless (or Meatloaf, as it was in my house growing up) Mondays or Taco Tuesdays, theme nights that make planning a no-brainer and offer the family something consistent to expect each week.
In our talks with nutritionists and parents for this issue, one of the most recommended ways to get dinner on the table was the make-it-yourself bar. The thinking here is twofold: It's less work for the person preparing dinner, and it offers something for everyone. You start with a base, then let each family member add what they want from a station of toppings. Consider making it a rule that everyone has to take one topping from each food group: a protein, three veggies, etc. But, you know, a fun rule. Here are three theme night ideas.
Monday Rice Bowls
What you need: 3-4 cups rice, a mix of brown and white
Small bowls of the following: chopped green onion, halved peanuts or almonds
Medium bowls of the following: diced onion, diced red pepper, sauteed mushrooms, peas, shredded carrots, meat (like cubed chicken breast or shredded pork)
Garnish: Sriracha, mint, basil, quartered limes
Taco Tuesdays
This is a popular option for a reason. It's easy to get a full meal out of a loaded taco — and a healthy one, too. Fill the loading station with beans and lots of veggies, and consider putting out a big bowl of lettuce so people can make taco salads instead if they want.
What you need: Flour or corn tortillas, a mix of hard and soft
Small bowls of the following: shredded cheddar or Monterey Jack cheese, sour cream or Greek yogurt, avocado
Medium bowls of the following: diced tomatoes, diced onions, corn, black beans, refried pinto beans, meat (like ground turkey or shredded chicken breast)
Garnish: hot sauce, quartered limes, cilantro
Friday Night Pizza Party
What you need: Fresh pizza dough
Small bowls of the following: thinly sliced garlic, Parmesan cheese, pepperoni
Medium bowls of the following: marinara sauce, mozzarella cheese, thinly sliced tomatoes, diced onions, red or yellow pepper strips, chopped broccoli
Garnish: Italian seasoning, garlic powder, crushed red pepper