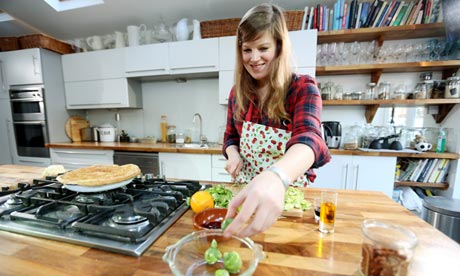 No one is really "born" a cook or a baker or a candymaker. Not even the world's culinary stars.
The road to becoming comfortable in the kitchen, a cook will tell you, is rarely straight or smooth. It is riddled with scorched pans, oversalted soups, scars, underseasoned stews, burns and flops.
So promise yourself, perhaps as a belated New Year's resolution, to get into the kitchen and cook or bake or make candy or pickles or … you get the idea. Maybe it will be a solo creative pursuit, and the steady chop of a knife against a cutting board will become a focused meditation. Or maybe it will be a weekend shared-cooking feast with friends. Or a family affair with children helping prepare a meal.
No matter what, let the power of cooking work its magic. Flops and all.
And when flops happen, quote Ray Bradbury: "Life is trying things to see if they work." With a little help from some friends, of course:
Fix the flops: "Anyone who does a lot of cooking has flops, and each one teaches you something. … If you've had a great flop, take a 'what-the-hell' attitude, and pull the dish through with flair," the late Julia Child told us 30-plus years ago. Recalling a deflated chocolate souffle she decorated with whipped cream, dubbed "chocolate torte" and served to guests, she added, "Keep in mind that your audience doesn't know what you're aiming for, so don't let on."
Know where you went wrong: Chef Jacquy Pfeiffer, co-founder of the French Pastry School in Chicago, tells students, "It's very possible that a recipe will not work out right away. Sometimes very simple things, like you don't let your ingredients come to room temperature, might make the recipe fail. … It's more important to know how a screwed-up recipe looks, and it's even more crucial to know how to fix it, than to make the perfect pastry."
Don't overdepend on gadgets: "My favorite kitchen tool is my hands," said Connecticut cookbook author Pam Anderson. "When you go in the kitchen, wash your hands and touch, smell, taste, look – freely. … There's nothing like pulling pizza dough or bread dough out of the food processor, pouring it onto the countertop and giving it that final 30 seconds to a minute kneading to pull it into that baby's-butt smooth texture."
Learn how foods feel: "You can't just follow a recipe and have it turn out," said Paula Haney of Hoosier Mama Pie Co. in Chicago. "The recipe for a pie crust is going to be variable depending on the weather and humidity, so you kind of have to have a feel for it. … You only have flour, butter and cold water. So I think it takes on this sort of magical thing."
Plan but be flexible: When chef Stephanie Izard (Girl & the Goat, Little Goat) plans a multicourse meal, "You want to have a little acidity; you want a little sweetness, a little spice or a little salty," she told us. "With each dish, I'm always trying to make the whole mouth happy." How do you start? "Pick the proteins first, (then) be flexible because you definitely want to base it on what's looking good at the market."
Don't overdo it: "People try to do too much," said legendary chef and cookbook author Jacques Pepin. "They take a cooking class, learn seven desserts and try to do all of them. It's better to do one well."
Simplify: "Almost everybody who is cooking dinner on a weeknight is doing a ('Top Chef') Quickfire Challenge," said chef and cookbook author Rick Bayless (Frontera Grill, Topolobampo, Xoco, etc. "You don't have very much time. You just have to get dinner on the table, but you want it to be delicious." Understand how a recipe works, then "go into the kitchen and make something that's just exactly right for you." Improvise, he said, balancing flavors and textures.
Memorize these secret ingredients: Lauren Braun Costello, in "Notes on Cooking: A Short Guide to an Essential Craft," explained that sweetness (a touch of sugar, agave syrup or balsamic vinegar) can boost a dull tomato sauce. Vinegars and lemon can "add brightness" to nearly everything. And a pinch of salt? "It makes everything brighter and stronger, (but) that doesn't mean that things should taste salty," she said. Foods such as Parmesan, capers and anchovies can add saltiness to dishes.
Rethink recipes: When chef Art Smith had to lose weight for health reasons, he worked on his favorite recipes. "Roasting is probably the healthiest way to cook," he said. "I don't think anything blanched or boiled has any flavor. Roasting intensifies the color and the flavor of food."