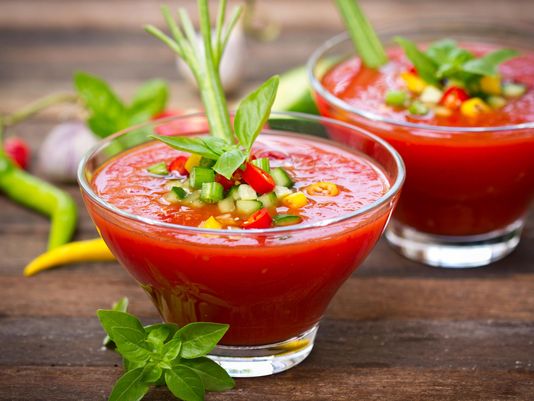 COLD TOMATO SALAD SOUP
Makes: 4 to 6 servings
2 (14.5-ounce) cans stewed tomatoes, or 1 (28-ounce) can
4 tablespoons oil (I now use sunflower)
4 tablespoons seasoned rice vinegar
½-1 cucumber, peeled and seeded
1 medium onion, or several scallions
1 small green pepper, cored and seeded
Salt and pepper, to taste
Place tomatoes with juice, plus oil and vinegar, in a blender or food processor. Pulse a few times to chop tomatoes. Turn into a bowl or storage container.
Chop cucumber, onion or scallions, and green pepper fairly small to get several pieces in each spoonful. Stir into the tomato mixture. I don't season further, but you may want to. Chill.
TURKEY BARBECUE
Serves: 4 to 5 as Sloppy Joes, or over rice or noodles
This was originally made with hamburger, but I prefer turkey. Tastes great.
1 tablespoon oil
1 pound ground turkey
1 onion, chopped
2 stalks celery, chopped
½ green pepper, chopped
1 cup ketchup
1 tablespoon vinegar
1 tablespoon brown sugar
1 tablespoon Worcestershire sauce
½ tablespoon mustard
Brown the ground turkey and chopped vegetables in oil spread in a large, heavy skillet. Stir in sauce ingredients and simmer, covered, at least an hour on low heat, to blend the flavors.
HONEY-GLAZED CORNISH HEN
This is a low-calorie approach to a tasty meal for two.
1 Cornish game hen, a little over a pound
Sprig of fresh rosemary, optional
2 tablespoons orange juice
1 tablespoon soy sauce
1 teaspoon rice or wine vinegar
1 teaspoon honey
Pinch of ground ginger
Cut the hen in half; place on a baking pan, skin side up. Tuck a piece of rosemary underneath each half for a lovely aroma while cooking. Roast 30 minutes at 400 degrees.
Combine glaze ingredients well. Brush all over the hen and roast another 10 minutes or so, to brown skin and cook through.
SUPER EASY STRAWBERRY-TOMATO MOLD
Serves: 4 to 6
1 (14.5-ounce) can stewed tomatoes
1 (3 ounce) box strawberry gelatin
1 tablespoon vinegar or lemon juice
¼ cup water
Place all in a saucepan and heat, stirring until gelatin dissolves. Turn into a small mold or individual molds. Chill until set.
WHITE GRAPE JUICE COCKTAIL
Welch's came up with this idea for nonalcoholic drinkers and children. I prefer having cold ingredients and skipping the ice.
White grape juice
Ginger ale
Fill a glass with ice; pour in 2/3 grape juice and 1/3 ginger ale. Stir.
For a bigger batch, blend a bottle of grape juice with ginger ale to taste.