Just imagine cooking in a well planned, modern kitchen; where everything has been carefully thought out and designed for maximum ease of use, where everyday cooking is a pleasure and not a chore.
Since time immemorial, colors have remained a source of inspiration for many of us to do exciting and innovative things in life. Have you ever imagined your dream kitchen getting a face lift with sleek and invigorating colors with an addition of equally refreshing counters and accessories? Explore the exciting top 5 trending cabinet colors to add an extra element of glamour and vibrancy to your dream kitchen.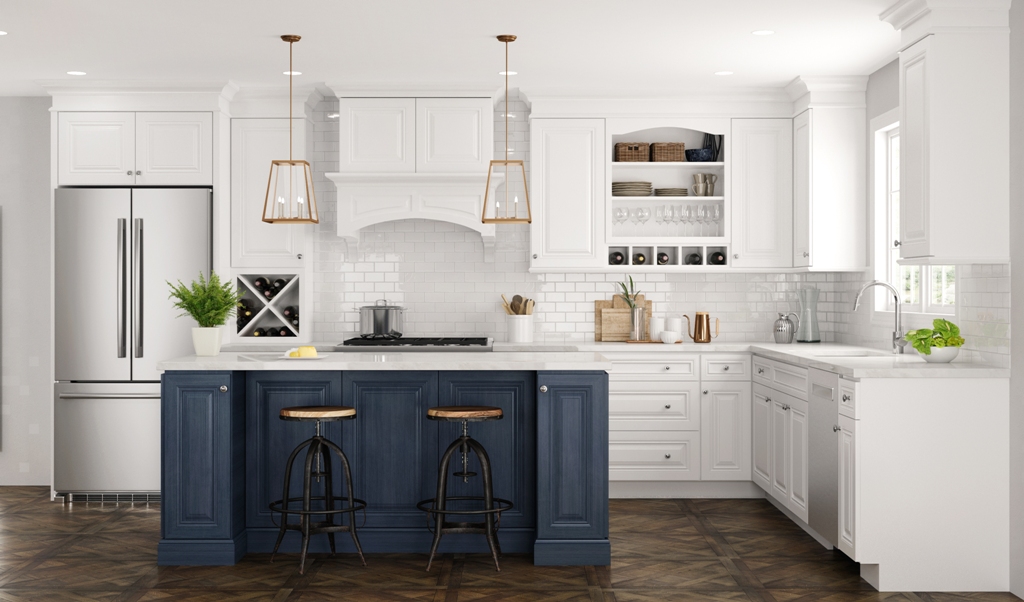 Blue prompts the feeling of peace, relaxation, expansiveness, grandness and quiet. You can take a look at the blue sky and ocean, which provide a great feeling to your soul. When used inside the kitchen, blue also triggers the feeling of tranquility, luxury and space.
Go bold with deep navy blue kitchen cabinets to create a sophisticated and moody look, or use light shades of blue in the kitchen to give your space a soothing coastal vibe. When you have a spacious kitchen, you must want it to be cozy, warmth and welcoming. Therefore, navy blue kitchen cabinet is the perfect shade to have in a large kitchen because you will be able to see that this color stands out. Dark shades of blue mixed with contrasting granite counter tops will give your kitchen that extremely modern flair.
Like the color of the sky and the ocean, blue kitchen cabinets serve a fresh and gorgeous design for the kitchen. Added with perfect lighting, you will have a sweet and cozy kitchen. If you seek for something that looks fun and playful, you can definitely check the light blue kitchen cabinet that serves a playful, calm and chic vibe for the kitchen.
Simple yet sophisticated. Blue kitchen cabinets with white counter tops are the ideal combination to create a modern and sophisticated look to the kitchen.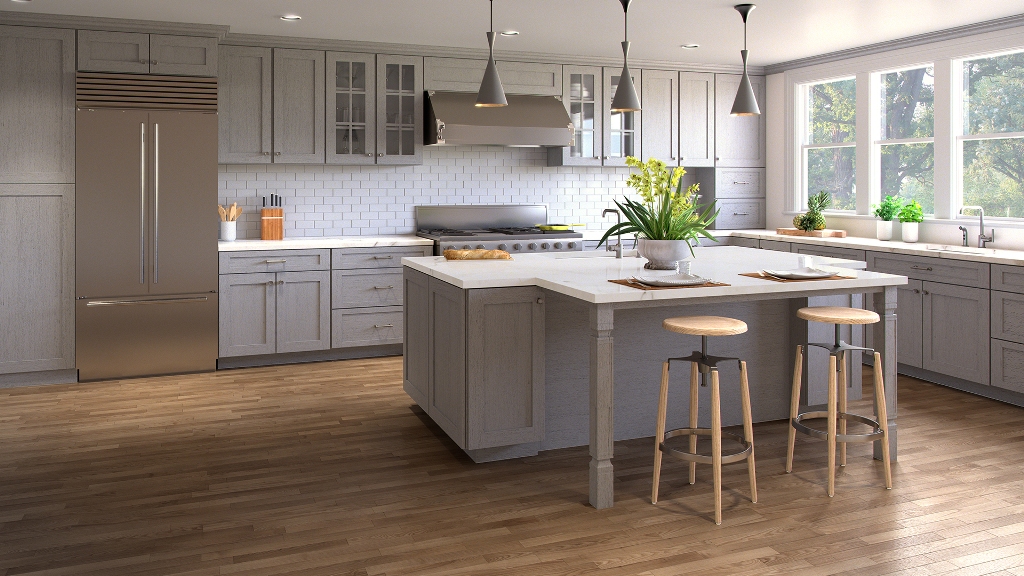 Whether it's a calming hue or a more dramatic tone, opting for grey kitchen cabinets is always a good choice. Grey showcases a very clean look to the kitchen. The color teeters between relaxing neutrality and an exciting warmth. It manages to provide the best of both worlds. Now, if you would like to have a refreshing apartment kitchen, grey cabinets are your best choice. Choosing the right shade of gray for a kitchen could be difficult, but you can always improvise. By having grey kitchen cabinets paired with white countertops, your kitchen will look very neat. The combination of white and grey is also perfect to display a warm welcome to the kitchen.
Grey cabinets are very adaptable to any kind of environment or design. You can combine grey color with almost anything. Besides adding more creativity, your kitchen will take on a more dramatic look.
Grey stained colors make your kitchen look very professional and luxurious as if you are in a fancy restaurant. Edgy and modern, that is what your kitchen is going to look like with grey stained kitchen cabinets. Designing a kitchen with shades of grey, you are not only limited to light grey colors, but you can add darker grey accenting colors, as well.
You can explore and experiment with your choices because grey is very versatile and flexible with any color. So, be creative with your kitchen design!

The white kitchen allows flexibility of style. Go from traditional to modern or eclectic designs. It features clean lines and a starker white making the room bright, clean and spacious. White kitchen cabinets accentuate natural light and brighten up your kitchen. Change the look depending on the choice of backsplash, countertop, hardware and accessories.
The simplicity of white cabinets also allow them to rise above short-lived trends, so you never enter your kitchen feeling like it was designed five or 10 years ago. Because of its versatility, white is also easy to update, accessorize, and add to. A kitchen can be given an entirely new personality just by keeping plain white cabinets and changing knobs and other hardware. What's more, pops of color can be even more impactful next to white cabinetry because of the sharp contrast, so a color palette can be easily understood.
Add character to your kitchen by introducing pearl white cabinets to the space. The beauty of white cabinets is that they offer a blank canvas, making them a great choice if you want something timeless. The off-white finish and mocha highlights will add intricacy to a farmhouse look without darkening the kitchen.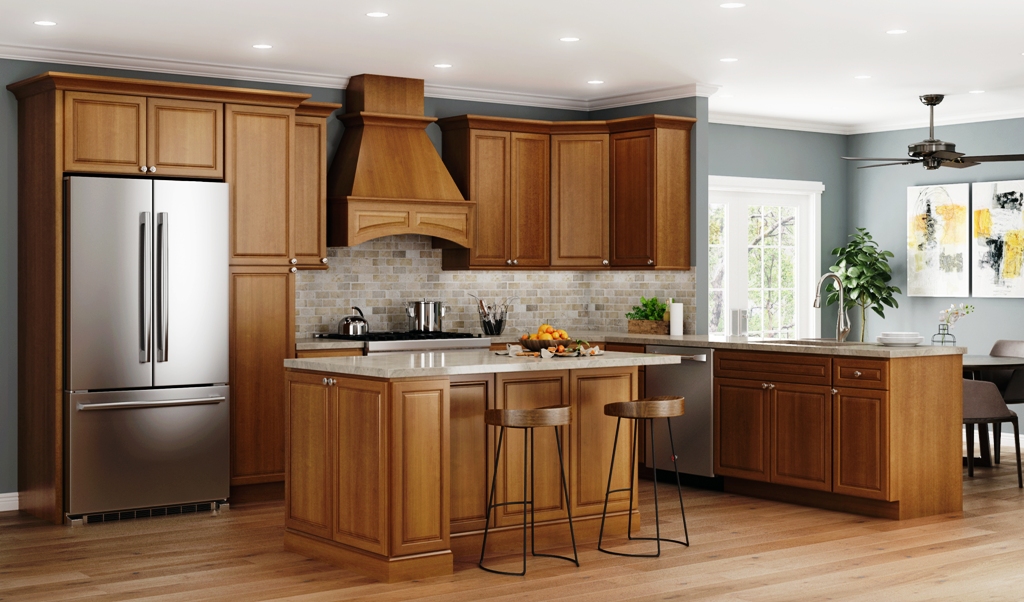 It's easy to create a warm and welcoming ambience when it comes to using brown kitchen cabinets. Brown, being a dominant color, evokes a kind of rustic and earthy hue to a traditional kitchen room setting. However, it can work just well even in a modern kitchen space. They make a kitchen look elegant and sophisticated when coordinated with the right color scheme.
Brown cabinets are quite attractive and versatile and work well with all kinds of kitchen décor and styling. While it perfectly complements modern kitchen designs, the brown cabinetry also looks great when installed in traditional and rustic looking kitchens. Whatever may be the color or design of the appliances and accessories in your kitchen, brown cabinetry will complement them beautifully.
While brown cabinets enhance the décor of your home, they impart comfort and serene look to the room. The dark color of the cabinet successfully provides a rich and classic look to the kitchen. Added to this, the durability offered by brown kitchen cabinets helps in creating a beautiful kitchen. All these attractive qualities of the brown cabinets help improve the value of your home with minimal effort.
Brown cabinets bring a timeless and elegant appeal to your home. When decorated skillfully with bright lighting, contrasting light-hued counter tops, radiant backdrop colors, and bright walls, your kitchen will get the gorgeous appearance that you have so long desired for.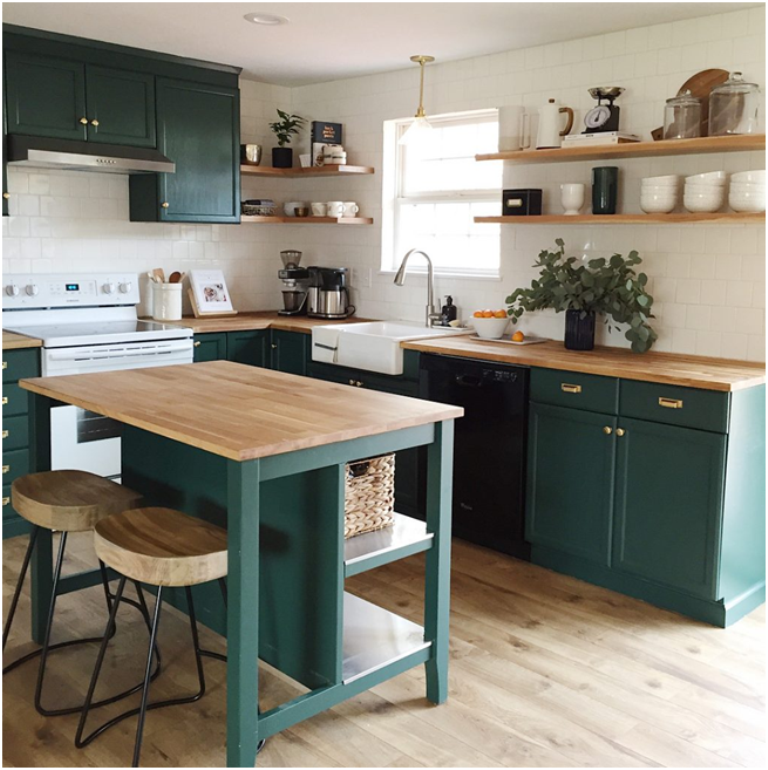 Green might not be the first color choice for the kitchen, but it is witnessing a revival. Lime green may not ever make a comeback, but shades like emerald, sage, avocado and mint are currently getting a look in as a color of choice for kitchens. Green is surprisingly versatile as a color choice in the kitchen, as it works well with gold, brass, stone and wood. So when thinking about your next kitchen don't discount green as an option. Green is a wonderful color for kitchens—vibrant yet cool, depicting healthiness and calm at the same time.
Opting for a lighter mint green will add feel-good vibes to your space and bring a hint of playfulness to your cooking space. If you prefer to go ahead with dark emerald green cabinets, the ideal combination with them will be brass hardware and gorgeous granite counter tops.
Because green makes you think about nature, it is good to consider adding a lot of green plants in your kitchen space to make it nature themed. Matching the green colored cabinets with light colored quartz counter top will make it a great combination.
Darker colors such as green and blue can really make a statement on kitchen cabinets, but they work best in large spaces since they can darken small rooms. If you plan to use them in a tiny kitchen, make sure to balance them out with white walls and lighter accents.
The sky is the limit when it comes to kitchen cabinet colors. If you're drawn to neutrals and more colorful shades, incorporate both by creating two-toned cabinets. The trick is to put the light color on top and a darker one on the bottom to help ground the space. Try this combination with white or gray cabinets on top and yellow, blue, green, or red cabinets on the bottom.